Make Your Own Handwriting Fonts...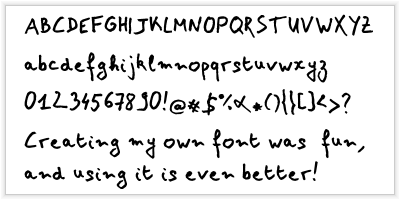 When I got exposed to the Font System in the Windows... I always thought of having my own font and how these fonts are generated.
Now
http://www.yourfonts.com
  provides the facility to create your own fonts, download them and use them as any other font. YourFonts.com is a FREE online font generator that allows you to create your own OpenType fonts within a couple of minutes. Go make your own handwriting as a font!
Its a simple process where you have to print the blank template, fill it, upload it and within 15 mins YourFonts.com produces the font file customised for you and your Font...
This is the Kind of innovation we can say, a breakthrough to the traditional fonts :)
Visit
http://www.yourfonts.com/
and start uploading and downloading your font.